The 38th Annual Metropolis of San Francisco Folk Dance Festival is now history and the Dance Groups from St George, Downey is part of that history!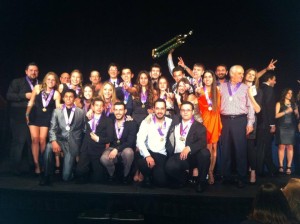 VERYINA
Our I Parea group under the direction of Tony Petroulias placed 4th of the 10 groups in the Advanced Junior Category. I Parea won the Costume Awards for their same category.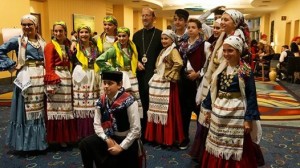 Anticipation rose as the announcements were made on the winners of the Senior Category and Veryina was neither in fourth, third, second nor first place. The group was so spectacular—– Could the unthinkable happen?
It did! Our Senior group Veryina outperformed the other 9 Senior Groups the 8 Advanced Senior Groups and were awarded the Division I Sweepstakes Trophy!
The last time Sweepstakes was won by St George, Downey was 15 years ago by the Advanced.
Our Veryina group is directed by Georgia Davilas Garefis, Nick Kapetanios with the assistance of Nikos Zourniatzidis. Our Veryina group also won the costume award for the Senior category Senior Group, Kritikakia.
We also congratulates Sophia Gatsios who was a recipient of one of the five scholarships awarded by the FDF.
The entire community of Saint George congratulates all of our dancers, directors, parents, grandparents, and countless individuals for their talent and support in making this a vital Youth Ministry of our Parish